Retro Arc Floor Lamp
There is a special class of lighting in the area of lamps – it's Retro arc floor lamp. If the classic floor lamps are available to many and does not constitute a rarity, the lamps in retro style – this is truly a rare phenomenon that certainly deserves more attention.
Retro arc floor lamp George Kovacs dorian, bronze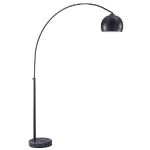 This elegant retro floor lamp design created by George Kovacs.
Arched design allows it to fit in a corner of your room without making any effort to reach areas of your sofa or desk area. Dorian bronze finish.
This retro arc floor lamp comes with full-range foot dimmer. The base floor lamp made of brown marble, which ensures a strong resistance. A capacity of 150 watt light bulb. Dimensions of a floor lamp : height – 86″, width – 64″. Has an adjustable head.
Adesso Retro Arc Floor Lamp Times Square, Chrome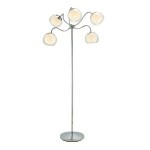 This is a very stylish retro arc floor lamp from Adesso give charm and grace any interior in your room. Consists of 5 arched lights, with bulbs of 40 watts each, which can be adjusted as you like, they have a bulbous shade. Floor lamp is completely covered with chrome. Height adjustable within 57-65 inches.
This Adesso retro floor lamp Times Square has a three-position switch, so, you can turn into two, three or all of the bulbs. This all provides an excellent opportunity to adjust the room lighting and focus the light in your room.
Unfortunately, the frequent adjustment of the slope and height may make it unsuitable. Cost – from $125.00.
Adesso Spheres Retro Arc Lamp, Antique Bronze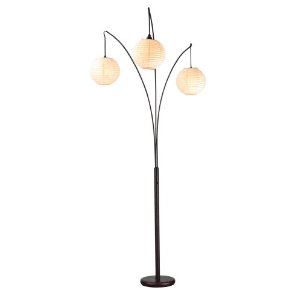 Another floor lamp from Adesso is Spheres Arc Lamp, Antique Bronze. Designed to give your antique interior room, especially ideal for the interior with Asian motifs.
This retro arc floor lamp is composed of three round paper lanterns in the Asian style, which branched from the 82-inch curved metal pole. Designed for 3 bulbs for 60W.
Decorating made in the form of antique bronze.
Cost – around $149.00.
Kenroy Home Crush Arc Lamp 3 Light, Oil Rubbed Bronze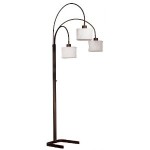 This lamp comes with three 9-inch in diameter, white paper lamp shades.Wavy shades as if suspended in air. special design in a modern and stylish stand crumpled paper lampshades bring comfort and cosiness in your house.
Floor lamp has a four-way switch. Finish Oil rubbed bronze. Three 100 watt light bulb.  Cost – around $148.00
Kenroy Home Sweep Floor Lamp, Oil Rubbed Bronze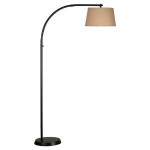 This lamp, finish in oil rubbed bronze, comes with one 16-inch diameter tapered drum shade.
Сonservative and  light design with a dynamic achieve, this extended, streamlined, advanced swing-arm is a design element lamp which makes for ideal task light and reading. Cost – around $153.00